As always when something interesting happen in my life,i alwys excited to post it in my blog but it alwys turn out to be like this-lazying to post it after i on9 coz of other attractions; PLURKING,DOWNLOADING,FB...

Today i watched a live-action movie, "Blood: The Last Vampire." This is not a movie that i'm looking forward to but long story-short,my dad n i finnally decided to watch it.I want to watch Terminator but my dad said that the movie is childish(hahaa coz it involves Robots from a popular kids fav cartoon).On the other hand,my dad wants to watch DRAG ME TO HELL. Lastly we chose to watch this movie...


Back to the movie, MY BEFORE-HAND IMPREESION WAS THAT THIS MOVIE IS JUAT ANOTHER TYPICAL VAMPIRE MOVIE BUT I TURNED OUT TO BE WRONG.I WAS IMPRESSED BY THE WAY IT WAS DIRECTED. LOVE Jun Ji-Hyun or Gianna(know her from MY SASSY GIRL)



WHILE WATCHING IT,I'VE KEPT THINKING THAT I WAS WATCHING AN ANIME BUT THE CHARACTERS R NOT CARTOON BUT HUMAN-BEING. WATCHING IT, I KEPT ASKING MYSELF IS THIS MOVIE'S ADAPTED FROM AN ANIME n YEAH, I WAS RIGHT THIS TIME.

The anime shares the same title with this movie....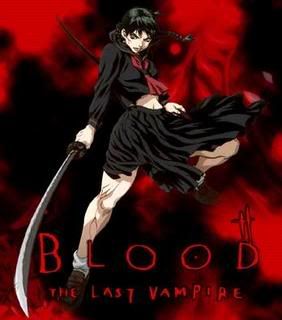 Y did i say this movie is interesting?It's because it's a unique movie due to the facts that the main lead is a Korean actress + the mixture of 2 different cultures (JAPAN + AMERICAN).
I was really10x awed by the action skills of samurai n da emotions of the main lead which was really convincing to me.

When i watched this, i was awed by the action moves dat really resemble anime n i remembered 2 of my fav anime-HELL GIRL n SAMURAI X. Hahaaa afta watched this movie, I said to my dad that this movie really suits my taste coz I'm an anime lover n this movie reminds me that i've missed a lot of good mangas n anime.
To Do List:- Read SKIP BEAT